Posting your question. Please wait!...
---
MEMBERSHIP OF INDO-JAPANESE ASSOCIATION
Life Member- Rs 5,000
Ordinary Member-Rs 750
Patron Member-Rs 5,000
Corporate Patron- Rs 10,000
ECC Membership :
Individual:Rs 750
Private / Public limited Co- Rs 1,500
ECC Patron 20 years: Rs 15,000
You can fill membership form and make payment by Cheque in favour of
" Indo Japanese Association
Events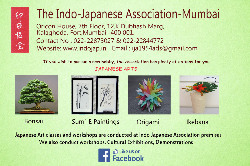 If you wish to pursue new hobby centre has plenty of activities for you. So sign up for the various Japanese cultural courses.
Bonsai course

Contact Us
Overview:
Address :- Oricon House, 7th flr, 12 K.Dubhash Marg, Kalaghoda, Fort, Mumbai-400 001.
Email:
ija1954@indojap.in & ija1954ads@gmail.com